NOW OFFERING REMOTE TRAINING FOR SELECT CLASSES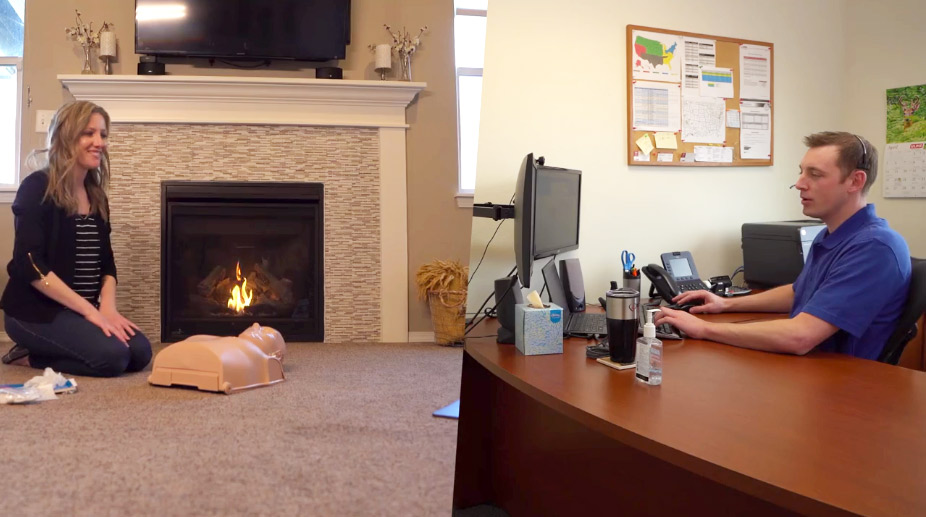 Remote learning is a combination of eLearning, in which a student completes part of the course in a self-directed manner online, followed by live webcam hands-on skills session. The hands-on skills session is completed via webcam person with a LIVE authorized Instructor. We offer this format for the classes listed below. Equipment is shipped to each student with a return label prior to the webcam skills session. 
---
American Health & Saftey Institute (ASHI)
CPR/AED (Adult/Child/Infant) & First Aid (optional)
General information: This is a credentialed CPR course for lay responders or non-healthcare professionals. This course teaches adult/child/infant CPR/AED skills, as well as the use of barrier protection such as pocket facemasks. Participants also learn how to use an AED. As an option, you may combine the ASHI First Aid course with the ASHI CPR/AED course which covers common medical and trauma emergencies, as well as environmental emergencies such as frostbite and heat.
Students receive: ASHI certification card valid for two years and a digital student manual.
Audience: Teachers, Coaches, Fitness Pros (ACE, NASM, ACSM, AFAA, and more), Daycare Providers, Parents, Camp Counselors, Construction Workers, Nursery School Employees, and other caring citizens.
HOW IT WORKS:
Take the cognitive/lecture part of the course part online. Instructions will be emailed after registration.
After you complete the lecture part of the course and schedule your remote skill session, ASHI will then mail you the required training equipment. To make sure you receive the equipment before your remote skills session, you can only schedule the remote skills session 10 days or more from the completion of the online lecture part.
Once we receive notification that the shipping company has received the return package,  we will issue the certification card.
REGISTER HERE FOR ASHI CPR/AED
REGISTER HERE FOR ASHI CPR/AED & FIRST AID